Getting your house ready for sale can feel like an overwhelming task, especially when you're trying to figure out what repairs and upgrades to make before putting it on the market. But did you know, not all repairs will give you a return on investment? In fact, some repairs may not be worth your time and money.
In this blog post, I provide you with information explaining what not to fix when selling a house, as well as what repairs and upgrades you should consider making.
Home Improvements to Not Make
When preparing your home for sale, it's important to be strategic about the improvements you make. Some major renovations may not yield a return on investment and can actually end up costing you more in the long run. Here are some home improvements to avoid making before selling your home:
1. Major Renovations
Making major renovations, such as adding an extra room or a swimming pool, can be a costly investment for homeowners. While it may seem like these types of upgrades will add value to a home, they likely will not result in a higher return on investment.
Buyers many times are not willing to pay a premium for these renovations, especially if they have different preferences or needs. Buyers may also prefer to have the flexibility to make their own renovations or modifications to a home, rather than being limited by existing upgrades that don't align with their preferences.
2. Major HVAC, Electrical, or Plumbing Updates
Extensive upgrades to your home's HVAC, electrical, or plumbing systems can be expensive and time-consuming. If there are no major issues, buyers may not even notice these upgrades, as they are often considered basic necessities rather than luxuries.
Minor updates, on the other hand, can be a more cost-effective way to improve your home's appeal to potential buyers. For example, replacing outdated light fixtures with newer, energy-efficient models can not only improve the aesthetics of your home but also save money on energy bills. Repairing leaky faucets and fixing any minor plumbing issues can also go a long way in making your home more attractive to buyers.
3. Normal Wear and Tear & Cosmetic Flaws
Normal wear and tear, such as scuff marks on walls or worn carpeting, should not be a major concern when preparing your home for sale. Most buyers understand that a home that has been lived in will show signs of wear and tear. Cosmetic flaws, such as outdated wallpaper or an old countertop, can be easily remedied with a fresh coat of paint or by refacing the surface.
4. Driveway & Walkway Cracks
Cracks in your driveway or walkway can be unsightly, but they are not necessarily deal breakers for potential buyers. Unless the cracks pose a safety hazard, they may not be worth fixing before selling your home.
5. Windows & Window Coverings
While new windows can be a desirable feature for buyers, they may not necessarily provide a high return on investment. If your windows are in good condition, replacing them is likely not worth the expense. In addition, expensive or elaborate window coverings will not be to every buyer's taste, so keep it simple.
6. Fresh Paint in Every Room
A fresh coat of paint can make a big difference in attracting potential buyers. It can make rooms look brighter, cleaner, and more inviting. However, it's usually not necessary or cost-effective to paint every room in the house.
Focus on the rooms that need extra attention. For example, high-traffic areas such as the kitchen or bathroom may benefit from a fresh coat of paint to cover up any scuff marks or water stains. Rooms with bold or outdated colors may also benefit from a more neutral tone that will appeal to a wider range of buyers.
If the walls are in good condition, you may only need to touch up any areas with small chips or scratches. This can be done with a small paintbrush or roller and a small amount of paint. This will save you time and money compared to repainting the entire room.
7. Fixtures
Replacing outdated light fixtures or doorknobs can be a simple and affordable way to update your home's appearance. However, buyers may have their own preferences when it comes to fixtures, so don't spend too much on them.
8. New Flooring in Every Room
Unless your current flooring is in poor condition or severely outdated, it's usually more practical to leave it as is. In some cases, simply having your existing flooring professionally cleaned or refinished can give it a fresh and updated look without the need for a full replacement.
If you do decide to replace your flooring, choose a neutral and timeless option that will appeal to a wide range of buyers. Avoid trendy or bold choices that can turn off potential buyers.
9. Older Appliances
If your appliances are in good working order, there is no need to replace them before selling your home. While new appliances can be a selling point, they can also be a costly investment. Additionally, some buyers may have their own preferences when it comes to appliances.
If you do decide to keep your older appliances, it's a good idea to clean them. This will show potential buyers that they have been well-maintained and cared for. Providing documentation on any recent repairs or maintenance can also help instill confidence in buyers that the appliances are reliable.
What You Should Consider Fixing Before You Sell Your House
If you're planning on selling your house, there are some fixes you should consider before putting your home on the market. By taking care of these repairs beforehand, you can increase your home's value and attract more potential buyers.
Curb Appeal
First impressions matter, and that's especially true when selling your home. The exterior of your home is the first thing potential buyers will see, so it's important to make sure it looks its best. This includes tasks such as:
Landscaping: Mow the lawn, trim bushes, plant flowers, and remove any dead plants.
Spruce Up the Front Porch: Remove spider webs and debris, and add a welcoming doormat for potential buyers.
Paint: Touch up any chipped or peeling paint, and consider repainting the exterior if necessary.
Clean: Power wash the exterior to remove any dirt or grime.
Major Repairs
When it comes to major repairs, there are a few key areas you should focus on. Suggested repairs include:
Faulty HVAC System
A faulty HVAC system can be a major deterrent for potential homebuyers. Many times buyers are looking for a home that is move-in ready and they don't want to deal with the hassle and expense of repairing or replacing the HVAC system.
To avoid any issues with your HVAC system when selling your home, have it inspected and repaired by a professional before putting your home on the market. A licensed HVAC contractor can identify any issues with your system and make the necessary repairs or replacements to ensure it's in good working order.
Leaking Roof
If you notice any leaks or damage to your roof, address the issue before listing your home for sale. Water damage caused by a leaky roof can not only be unsightly but can also lead to mold growth, which can cause health problems for the home's occupants.
To prevent any potential damage, have a professional roofer inspect your roof. They can help determine the best course of action if there are leaks, whether that's repairing the roof or replacing it altogether.
Electrical Systems
Electrical systems that are not functioning properly or are outdated can be a safety hazard to the occupants of the home. They can also be an obstacle to selling your home.
Some issues that electricians identify during an inspection include outdated wiring, overloaded circuits, and improper grounding. These issues can lead to electrical fires or other dangerous situations. An electrician may also recommend upgrading your electrical panel or making other updates to ensure your home is up to code.
Buyers will likely request an inspection and any major electrical issues may cause them to reconsider their purchase or ask for repairs.
Plumbing (leaks, burst pipes)
Plumbing issues such as leaks or burst pipes can lead to significant damage to your home and can be a large expense for potential buyers. Even a minor leak can lead to water damage, mold growth, and other issues that affect the overall integrity of your home. It is best to have leaks and burst pipes fixed prior to selling your home.
Severe Foundational Issues
Severe foundational issues are a concern for any homeowner as they can significantly impact the safety and stability of the home. If left unaddressed, foundation problems can worsen over time and lead to structural damage, which can be costly to repair.
Not all foundation issues are severe and require immediate repair. Minor cracks or settling may be common in older homes and may not be cause for concern. If you suspect you have a major foundational issue, it is best to consult a licensed professional. A foundation inspection typically involves a visual inspection of the interior and exterior of the home, as well as measurements and analysis of the foundation's structure. If issues are identified, the inspector can recommend necessary repairs.
Wood Destroying Pests
Wood-destroying pests such as termites and carpenter ants can cause extensive damage to your home's structure. If you suspect an infestation, it's important to have it treated by a professional before putting your home on the market.
Declutter Your Home
Finally, decluttering your home isn't an actual "repair" but it is something that is one of the easiest and most cost-effective things you can do to prepare your home for sale. This means removing any unnecessary items and organizing the remaining items to make your home look spacious and inviting. By decluttering your home, you can help potential buyers envision themselves living there and increase your chances of a sale.
Home Improvement Loan Program for Major Home Repairs
Struggling to make necessary repairs before selling your home? We understand that the cost of updates and repairs can be a major concern for homeowners if they are wanting to sell soon.
That's why we offer a loan program to cover all necessary improvements and repairs, with no payment due until your home is sold. Kevin will provide personalized advice on what updates will bring the most value to your home, ensuring you don't waste money on unnecessary repairs.
Updated homes stand out in the market, attracting more potential buyers and allowing for a higher sale price when paired with a solid pricing and marketing strategy.
Connect with Kevin to learn more about our Homeowner Enhancement Loan Program (H.E.L.P.)!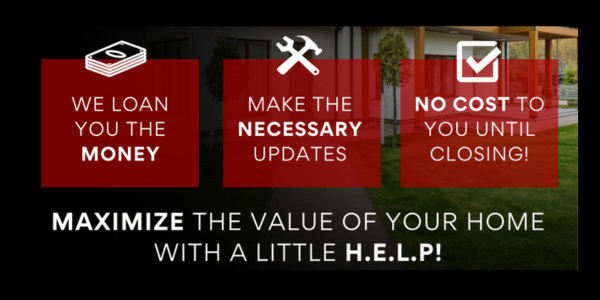 How to Decide Whether or Not to Fix Something Before Selling Your House
One of the biggest questions that homeowners face is whether or not they should invest in making repairs or updates before putting their home on the market. There are a few factors to consider when making this decision.
Consult with a Top Local Agent
When trying to decide what repairs or updates to make, it's always best to consult with a top local agent who has experience in your area. They can give you valuable insight into what buyers in your market are looking for and what will help your home stand out from the competition.
If you're ready to take the first step in selling your home, contact Kevin today for expert advice on whether or not to invest in repairs or updates before listing your home. With years of experience in the industry and a commitment to helping homeowners get the best possible outcome, Kevin can help you make informed decisions about repairs you may be considering.
Determine if You will Recoup Your Cost
Before investing in any updates or repairs, you should consider whether or not you will recoup your costs. Some repairs may not add significant value to your home or may not be important to potential buyers. A top local agent can help you determine what repairs and updates will add the most value to your home.
Consider Having a Home Inspection Prior to Listing Your Home
A home inspection is a thorough assessment of a property's overall condition, including the home's major systems, foundation, roof, and other structural elements. It's best to have this performed by a licensed home inspector who has the expertise and experience to identify any defects, safety hazards, or potential problems.
By having a home inspection prior to listing your home, you can get a better understanding of its condition. The inspector can point out any major issues that need to be addressed, such as faulty electrical systems, plumbing leaks, or a leaky roof. You can then prioritize which repairs or updates are necessary before putting your home on the market.
Knowing the condition of your home also puts you in a better negotiating position with potential buyers. If you have a clean home inspection report, you can show it to potential buyers as evidence that your home is in good condition and that you have already addressed any major issues. This can help you sell your home faster and at a higher price.
Should I Sell My House As-Is
If you're considering selling your house as-is, you may be dealing with an estate sale property or simply cannot afford to make updates. Selling a home as-is can be a viable option for some homeowners.
In an estate sale situation, it may not be feasible to make updates or repairs due to time constraints or other factors. Similarly, if you cannot afford to make updates, selling as-is may be your best option.
However, it's important to keep in mind that selling as-is can impact the price you receive for your home. A top local agent can help you determine the best strategy for selling your home and if this option makes the most sense for your situation.
Option for Selling Your Home As-Is
Looking for a way to sell your home fast for cash? Our Sell It Now program may be a great fit! This program allows you to quickly sell your house for cash and choose your own closing date, all without having to deal with the hassle of financing falling through or open houses and showings. Contact Kevin today to schedule a free home assessment and take the first step toward a stress-free home sale.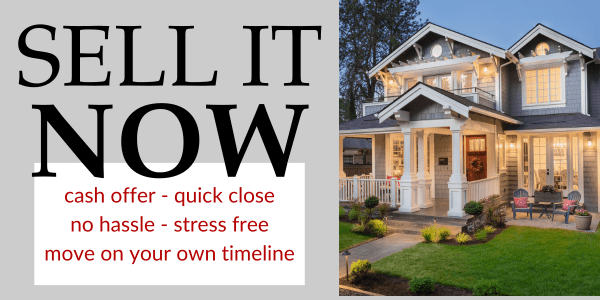 The Bottom Line: Weigh Your Options When Selling Your Home Before Making Repairs
The decision to sell a home that may need repairs can be a difficult one, but it's important to weigh your options carefully. It's important to consider whether or not making repairs or updates will improve the value of your home and help it sell more quickly. On the other hand, selling a home as-is can be a viable option, especially in situations such as estate sales or financial constraints.
Remember, what stops a house from selling are usually price, condition, or lack of proper marketing. Pricing your home appropriately, making necessary repairs and updates, and hiring an experienced real estate agent who can properly market your home are all critical steps in ensuring a successful sale.
If you're considering selling your home, whether it needs repairs or not, it's always a good idea to start with a home valuation. Kevin can provide you with a home valuation either by email or by visiting your home and providing you with a more customized price based on the condition of your home. Get started by getting your home valuation today!