The modern world is rapidly changing, and the concept of a "smart home" has become increasingly popular in recent years. So what is a smart home? A smart home is an automated living space that uses connected devices, such as lights, door locks, thermostats, and security cameras to provide convenience and safety for its inhabitants. With the ability to control these devices remotely from anywhere in the world with just a few taps on your phone or tablet, it's no wonder why so many people are turning their homes into smart ones.
In this blog post, I explore what exactly constitutes a smart home and how its various components work together to make life easier. I also look at some of the benefits of having a smart home system installed in your house such as energy savings, improved security, and enhanced comfort levels. Finally, I'll discuss some of the considerations you should take when planning out your own personalized setup. So let's get started!
Key Components of a Smart Home
Smart homes are powered by home automation technology which allows for the seamless integration of multiple smart devices into one unified platform. This enables users to easily monitor and manage their home environment from a single app or dashboard. The key components that make up a smart home system include smart devices, sensors, hubs/gateways, wireless protocols, and user interfaces such as mobile apps or voice assistants. Together these components work to create an efficient and secure living space where all connected devices can be monitored and controlled at any time.
Benefits of a Smart Home
Smart homes provide an unparalleled level of convenience, comfort, and security that traditional homes simply cannot match. All these benefits make investing in a smart home worth it!
Enhanced Convenience and Comfort
One of the primary benefits of a smart home is the enhanced convenience and comfort it offers. With smart devices and automation systems, you can control various aspects of your home with ease. Adjusting the temperature, turning lights on or off, and even operating appliances can be done remotely or with voice commands, saving you time and effort. Personalized settings and automation routines further enhance convenience, allowing your home to adapt to your preferences and daily routines.
Improved Energy Efficiency
Smart homes promote energy efficiency, leading to reduced energy consumption and lower utility bills. Smart thermostats, for instance, learn your temperature preferences and adjust settings based on occupancy patterns and external factors, optimizing energy usage. Smart lighting systems can automatically turn off lights in unoccupied rooms, and smart appliances can provide energy consumption data and offer energy-saving modes.
Enhanced Security and Safety
Smart home technology enhances security and safety measures in several ways. Smart security systems offer real-time monitoring, remote access, and instant notifications of potential threats, such as intrusions or fire alarms. Smart locks allow secure keyless entry and temporary access control. With doorbell cameras and remote monitoring, homeowners can see and communicate with visitors from anywhere. These features provide peace of mind and help protect your home and loved ones.
Remote Monitoring and Control Capabilities
One of the standout advantages of a smart home is the ability to monitor and control your home remotely. Through smartphone apps or web interfaces, you can check security camera feeds, adjust thermostat settings, lock or unlock doors, and receive alerts or notifications on your mobile device. This remote access allows you to stay connected and in control, even when you're away from home, providing convenience and ensuring that you never miss important events or issues.
Popular Smart Home Devices and Technologies
Smart Speakers and Voice Assistants
Smart speakers, powered by voice assistants like Amazon Alexa or Google Assistant, are a cornerstone of a smart home. These devices respond to voice commands, allowing you to control other smart devices, play music, answer questions, set reminders, and even provide weather updates. They serve as the central hub for managing your smart home through voice control.
Smart Thermostats and HVAC Systems
Smart thermostats provide advanced temperature control and energy management capabilities. They learn your preferences, adjust temperature settings based on occupancy or external factors, and can be controlled remotely. Smart HVAC systems integrate with thermostats to optimize heating, ventilation, and air conditioning, resulting in energy savings and increased comfort.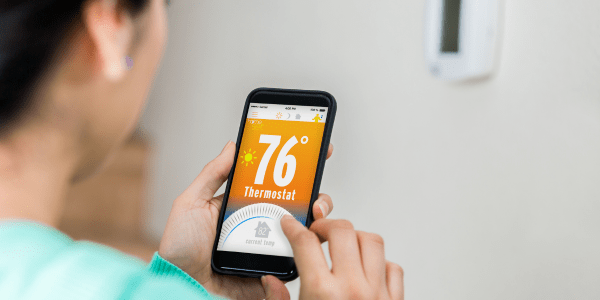 Did you Know? Smart thermostats and HVAC systems have helped increase energy efficiency by as much as 23%, according to the United States Department of Energy. These systems also allow for automated scheduling so that heating and cooling are used only when necessary, leading to even greater energy savings. (Source: United States Department of Energy)
Smart Lighting Solutions
Smart lighting systems offer convenience and energy efficiency. They allow you to control lights remotely, create schedules, and adjust brightness or color temperature. Some systems can be automated to turn lights on or off based on occupancy or ambient light levels. Smart lighting can enhance ambiance, improve security, and reduce energy consumption.
Home Security and Surveillance Systems
Smart security systems provide robust protection and peace of mind. They typically include cameras, motion sensors, and door/window sensors. These devices can detect and record suspicious activity, send alerts to your smartphone, and enable remote monitoring. Integration with smart locks and doorbell cameras further enhances security by allowing remote access control and video verification.
Smart Locks and Doorbell Cameras
Smart locks offer convenient and secure access to your home. They can be operated via keypads, smartphone apps, or voice commands. Some smart locks also integrate with doorbell cameras, allowing you to see and communicate with visitors remotely. Smart locks provide keyless entry options and enable temporary access for guests or service providers.
Smart Appliances and Kitchen Gadgets
Smart appliances and kitchen gadgets add convenience and efficiency to your daily routines. These include smart refrigerators, ovens, dishwashers, and coffee makers. With smartphone connectivity, you can check inventory, adjust settings, and receive alerts or reminders. Some appliances integrate with voice assistants, allowing hands-free control.
Smart Entertainment Systems
Smart entertainment systems transform your living room into a multimedia hub. Smart TVs, streaming devices, and audio systems offer seamless integration with popular streaming platforms and voice control. You can use voice commands to search for content, adjust the volume, and control playback. Some systems also integrate with smart lighting for enhanced viewing experiences.
How to Make Your Home a Smart Home
Assess Your Needs and Goals
Before jumping into creating a smart home, it's important to assess your needs and goals. What do you want out of a smart home? Consider what aspects of your home life you want to enhance or simplify through automation and connectivity. Identify the specific areas where smart technology can make a difference, such as security, energy efficiency, convenience, or entertainment.
Plan Your Smart Home System
Once you've identified areas where a smart home system can make life easier, it's time to start planning the system itself. Research and explore different options available in the market, considering factors such as compatibility, features, and user reviews. Create a roadmap or blueprint of how you envision your smart home system. When selecting devices, be sure to consider energy efficiency, safety ratings, and other factors that may impact your decision.
Determine Your Budget
After you've planned your system, determine a realistic budget that fits within your means. Consider the cost of smart devices, installation, and any additional services or subscriptions required. Allocate your budget based on your priorities and the scope of your smart home project. Remember to account for future expansions or upgrades.
Considerations Before Getting Started
Compatibility and Integration of Devices
Ensure that the smart devices you choose are compatible with one another and can be integrated into a unified system. Check for compatibility with the home automation system or hub you plan to use. Research interoperability standards like Zigbee or Z-Wave, which promote compatibility among different brands and devices.
Privacy and Security Concerns
As smart homes involve collecting and transmitting data, privacy, and security are important considerations. Choose reputable brands that prioritize data security. Review the privacy policies and data handling practices of your selected devices and systems. Implement strong passwords, enable two-factor authentication, and keep software and firmware up to date to minimize vulnerabilities.
Scalability and Future-Proofing
Consider the scalability and future-proofing of your smart home system. Think about how easily you can expand or add new devices in the future. Look for systems and devices that are compatible with emerging technologies and standards. Investing in a flexible and adaptable system ensures that your smart home can grow and evolve as technology advances.
Bringing it All Together: Benefits and Potential of Smart Home Living
A smart home offers a myriad of benefits and possibilities that can greatly improve your daily living experience. With the right system in place, you can stay connected with your home even when you're away. A well-built smart home will give you peace of mind for years to come.
Remember, setting up a smart home is a gradual process, and you can expand and integrate additional devices and technologies over time as your needs evolve. Stay informed about new advancements in smart home technology and explore the possibilities they offer.
By embracing the benefits of a smart home, you can transform your living space into an intelligent and interconnected environment that simplifies your daily routines, enhances comfort and security, and contributes to a more sustainable future. So what are you waiting for? Get started on the path to a smarter home today! Contact me to learn more about how you can make your home smarter and more efficient.