Are you tired of renting? Are you considering buying a house? With the current state of the housing market, it's a question many people are asking. But is now a good time to buy a house? In this blog post, we'll explore the factors you should consider before making a decision.
Is it Time to Stop Renting?
Renting has its perks. It gives you flexibility and doesn't require a long-term financial commitment. It also means you don't have the responsibilities of homeownership like making repairs or paying property taxes. However, it also means that you're not building equity and you're subject to the whims of your landlord. So, is it time to stop renting and are there signs you could be ready for homeownership? Let's take a look at some things to consider before signing another lease.
Your Landlord is Raising Rent
One of the cons of renting is that you have no control over rent increases. Rent increases are normal these days, especially with the increasing costs of inflation. When you pay more for rent it also makes it harder to budget and save money. Overall, renting can create less stability in your life.
If your landlord is raising your rent, it might be time to consider buying a house. When buying a house and using a fixed-rate mortgage, you get to lock in your monthly payment and stabilize one of the largest monthly expenses. But before you make a decision, you should speak with a lender and make sure you're financially ready to take on a mortgage.
You've Spoken with a Lender
If you're considering buying a house, the first step is to speak with a lender. They'll evaluate your financial situation and determine if you're eligible for a mortgage. Some factors they'll consider include your credit score, down payment, income, and debt-to-income ratio.
If you are not eligible for a mortgage they can at least provide you with a roadmap on how to get there.
You Understand the Cost of Home Ownership
Home ownership comes with a lot of costs beyond the mortgage payment. You'll need to factor in property taxes, insurance, maintenance, and repairs (planned and unplanned). Before you buy a house, make sure you understand the true cost of home ownership and that you have enough savings to cover unexpected expenses. For repairs, it's a good idea to save 1-4% of your home's value every year. (Bob Villa)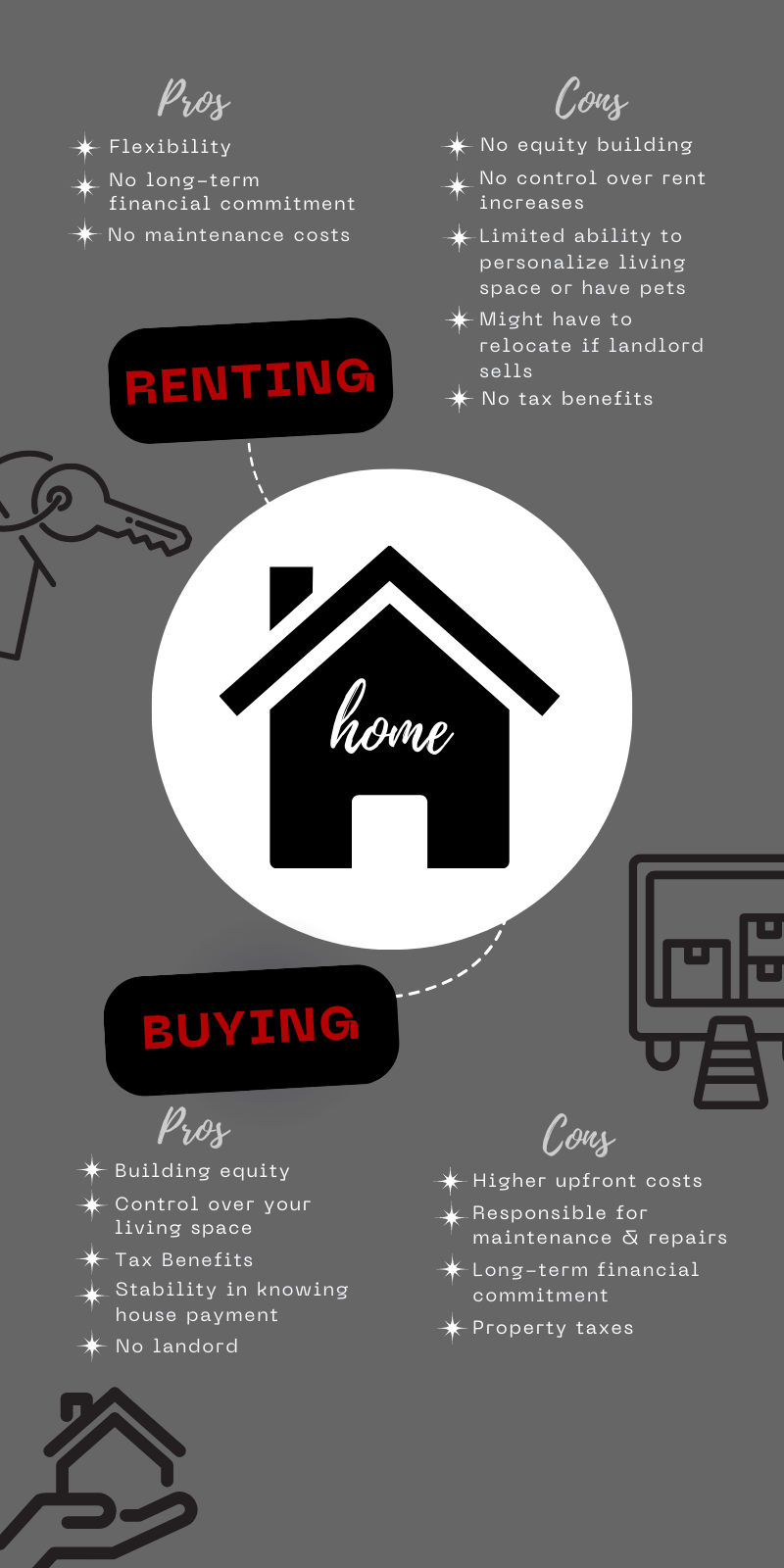 Market Outlook for Home Buyers
If you're thinking of buying a home, it's important to understand the current market outlook. By understanding these trends, you can make an informed decision about whether now is a good time to buy a home, or whether it may be better to wait for more favorable conditions in the future.
Higher Interest Rates
The Federal Reserve raised interest rates seven times in 2022. The average mortgage rate for a 30-year fixed loan was at 3.2% at the beginning of 2022 and is now around 6-6.5%. During the peak of the pandemic, home buyers enjoyed a much lower interest rate, but now with rates being higher, mortgages are more expensive. It's hard to predict how rates will fluctuate this year but many experts believe inflation will decrease which could then cause rates to go down. The big takeaway here is to understand that rates will likely not be as low as they were during the pandemic but they also could drop from where they are now.
Limited Home Supply
There continues to be a limited supply of homes on the market right now, which means that there's more competition among buyers. This could drive up prices and make it more difficult to find a home in your desired area. Here are some statistics from this past January compared to January 2022 for Stark County and Summit County, Ohio.
Stark County
- Number of New Listings to Come on the Market: 301 (compared to 329 in January 2022)
- Average Sale Price: $198k (compared to $182k in January 2022)
>> Learn More About Stark County
Summit County
- Number of New Listings to Come on the Market: 514 (compared to 542 in January 2022)
- Average Sale Price: $203k (compared to $192k in January 2022)
>> Learn More About Summit County
Home Prices are Leveling Out
Despite the low inventory levels, the number of home sales has decreased in recent months. This is partly due to the fact that some current homeowners are reluctant to sell their homes and purchase a new one, as doing so would mean taking on a higher mortgage interest rate. For these homeowners, it may make more financial sense to stay put and wait for more favorable market conditions before making a move.
At the same time, prospective buyers are also facing higher interest rates and inflation, which can make homeownership more challenging to achieve. As a result, demand for homes has decreased, leading to a leveling off of home prices. For those who are able to take advantage of the current market conditions, this could present an opportunity to purchase a home at a more affordable price before prices begin to rise again.
More Flexibility from Home Sellers
With some lower demand for homes due to higher interest rates and inflation, there is now a little less competition among buyers. This shift in the market has resulted in some home sellers becoming more flexible in order to attract potential buyers and make a sale. In some cases, this may involve offering concessions such as covering closing costs or making necessary repairs to the home before the sale. For buyers, this presents a unique opportunity to negotiate more favorable terms.
In contrast to the previous seller's market, where many buyers often had to compete and offer more than the asking price to secure a property, today's market is leaning in a more balanced direction. Homes are still selling for asking price or higher, but it's just not nearly as common as it was a year ago. Home sellers are more willing to work with buyers and come to mutually beneficial agreements, rather than simply dictating all the terms of the contract.
With more flexibility from home sellers and the potential for a more favorable market, now could be a good time to consider buying a home. By working with an experienced real estate agent and staying informed about market conditions, buyers can take advantage of the current opportunities and find a home that meets their needs and budget.
Conclusion
So, is now a good time to buy a house? The answer depends on your individual circumstances. If you've spoken with a lender and you're financially ready to take on a mortgage, and if you understand the true cost of home ownership, then it could be a good time to buy. With the right preparation and knowledge, you can make an informed decision about whether to buy a house now or wait for a better opportunity in the future.
Ready to explore your options and make an informed decision? Connect with Kevin, your local real estate expert, for personalized guidance and support. Whether you're looking for financing resources, information about the housing market, or simply want to discuss your options, Kevin is here to help!
Visit our financing resources page to learn more about financing options, and click here to get in touch with Kevin directly.
Related Articles:
>> How to Buy a House in 7 Steps: A Complete Guide
>> Best Time of Year to Buy and Sell a House
>> 22 Commonly Asked Real Estate Questions